Feather Banners
---
Feather Banners
£125.00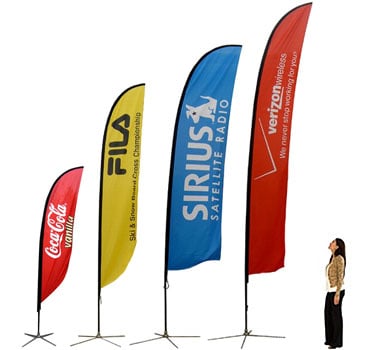 These popular outdoor banner stands, sometimes called flying banners, display a single or double sided dye sublimated flag graphic. The feather banners are designed move in the wind when used outdoors to reduce wind load. These are also popular for indoor use at trade shows and other events.
The Feather Banner stand does not include a ground mount or stake in the base price....please choose from the drop down menu to add a suitable base of choice.
Other forms of mounts can be chosen from the drop down menu.
The Feather Banner is available in four sizes, from approximately 10 feet to 20 feet in height to make sure your message gets noticed. This model features aluminum and GRP poles and a plated steel base, and comes with a fabric carry bag for easy transportation.
NOTE: Normal production time for this item is 7-9 business days. A rush service is available to reduce production time to 4-5 days.
Once ordered we will call you to discuss artwork, and a design will be prepared for your approval. If you already have designs in place we will advise where they can be uploaded.
Sold as a single sided graphic, with carry kit and basic mount. The basic price for a 2.5m unit is shown....use the drop down menu to choose other heights.
cross foot and bag heavy circle base